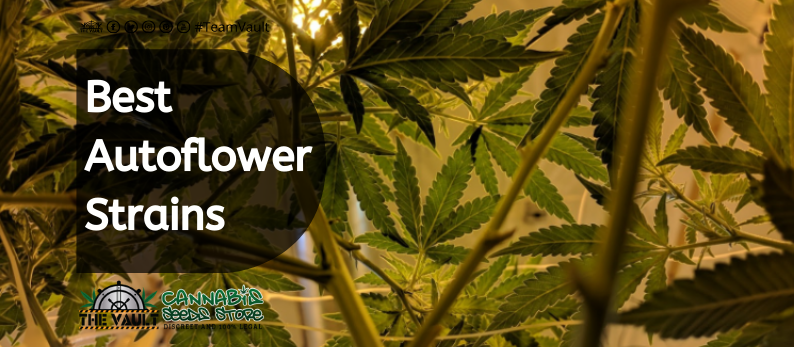 Autoflowering strains are perfect for all kinds of growers and breeders. They get their name from the fact that they flower automatically rather than as the result of a light cycle. This has a number of side effects such as a smaller plant, a higher yield, and a shorter flowering time. A lot of people prefer to use autoflowering strains since they require less growing space so they can fit in cupboards or on balconies quite easily. This is also perfect for inexperienced growers as they don't need to mess around with the light cycles in order to get the strains to flower. Since autoflowering strains became popular most strains are available in auto form, these are just a few of the very best available.
Amnesia Haze
This is a perfect example of a famous strain that can now be purchased in an autoflowering variety. Amnesia Haze is one of the most popular strains on the market, partly for its fantastically strong effect. The THC content is around 18% and the high is delightfully happy and uplifting. This particular version is a combination of Amnesia Haze and a Ruderalis strain which is what makes it autoflowering. This version of Amnesia Haze will go from seed to harvest in around 10 weeks. This particular strain is also feminised and will only grow into female plants.
Cream Mandarine XL
Cream Mandarine XL is a cross between the Cream Mandarine Auto and a Super Thai 98 elite clone. These impressive genetics have resulted in a high quality, high yielding strain with a great effect. This strain is Indica dominant and a little taller than most autoflowering strains. The buds are massive and completely covered in resin, the impressive yields of this strain have earned it the XL title. The effect is nicely balanced as there is a touch of Sativa in the genetic makeup. It is nice and relaxing with a full-body stone but also a delightfully perky cerebral buzz. This strain will just take 9 weeks from germination to harvest.
Purple Stilton
This beauty is a special combination of Purple #1, Blue Cheese, and Auto #1. She is perfect for anyone who loves Cheese strains but prefers a little less of the overpowering odour, especially for growing indoors. Even though the hallmark scent has been softened it has maintained the full-body chill stone that it is known for. This strain has high THC and high CBD which makes it a fantastic medicinal strain. Since this is a purple strain it is definitely one of the prettier plants available. Towards the end of the flowering period, it will take on some lovely purple colouration, especially in colder weather. Purple Stilton has a flowering time of 8 – 10 weeks.
Goliath
Goliath is known for its vigorous growth and fantastic yields. Like many autoflowering plants, this strain tends to grow out the way rather than up the way. The buds are incredibly compact and plentiful, with a moderate THC level of 12%. The flavours and scents of the strain are a mix of fruits, including melon and strawberry, which makes it an overall extremely enjoyable smoke. Goliath will flower in just 10 weeks and can be grown indoors, outdoors and in a greenhouse.
AK27 Express
Express is the key word here, this cross between AK47 and a special fast flowering ruderalis strain is certainly speedy. The AK 47 parent is an extremely famous strain in its own right, popular in breeding all over the world since the 90s. This stain produces medium yields of high quality buds that are balanced nicely between Sativa and Indica when it comes to the effect. AK27 Express can be grown in a lot of different ways buy responds especially well to indoor growing with the SOG (Sea of Green) method. This strain has a flowering time of just 7 weeks, but the longer she is left the better the yields.
Critical Kush
This strain is one of the most popular on the market and is even better when combined with Advanced Auto. Critical Kush is an Indica dominant strain and so its effect is extremely relaxing. Visually it is a compact strain with large, tight colas. The flavours and scents are a mix of earth, pine and classic Kush. She isn't too intense with a THC level of 15%, so her effect is delightfully soft and soothing, perfect for evening use. This strain will take around 8 – 9 weeks from germination to harvest.
Jack Herrer
Jack Herrer, named after cannabis activist and author of "The Emperor Wears No Clothes", is well loved in the cannabis community. It is Sativa dominant and has a stimulating, uplifting effect perfect for day time use. It was created in the 90s as a medical strain distributed in Dutch pharmacies. It is usually used to treat depression, stress, anxiety and pain. The THC content sits at around 16% and the plant will usually grow up to 100cm. The auto version of Jack Herrer will take 8 – 10 weeds from germination to harvest.
Stardawg
This strain gets a least a part of its name from the glittering coating of resin all over the buds. Stardawg was created by combining Chemdawg 4 and Tres Dawg, the result is a fantastic medicinal level strain that is fast flowering and high yielding. Stardawg is a balanced Sativa/Indica mix which makes it ideal for a lot of smokers. It has a powerful, cerebral effect along with a strong and relaxing bodily stone. It is great for treating a variety of issues such as insomnia, glaucoma, anxiety, arthiritis, nausea, stress, PMS, migraines and more. Stardawg smells of lemon and pine with a flavour to match. It has a THC level of around 22% and will grow in 8 – 9 weeks.
These are just a few of the fantastic autos available, there are many more top quality automatic strains available here. It's always important to make sure we are choosing the very best strain for us.
Remember: It is illegal to germinate cannabis seeds in many countries including the UK. It is our duty to inform you of this fact and to urge you to obey all of your local laws to the letter. The Vault only ever sells or sends out seeds for souvenir, collection or novelty purposes.
Make sure you never miss another Vault promo and sign up for our newsletter at http://goo.gl/Bt2Ba2