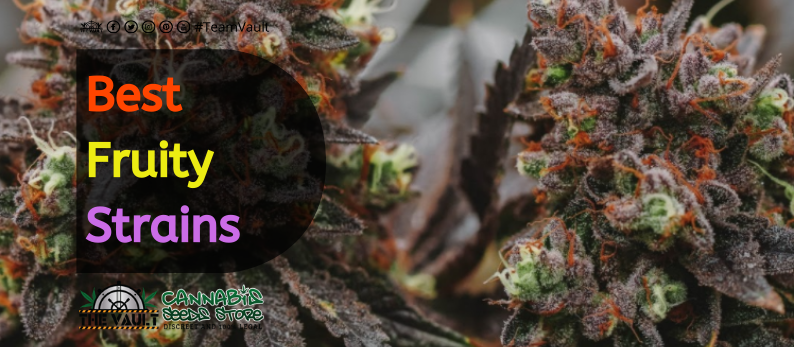 There are a lot of different reasons to pick the ideal strain. Everyone has different strain preferences, some prefer yield size, THC level, flowering type and some are more focused on the flavour of the strain. Strains come in a wide variety of flavours but the most popular ones usually have a powerfully fruity scent and taste. Fruity strains are perfect for summer smoking, relaxing in a field or going on a hike. These are just a few of the best fruity strains on the market.
Blackberry Kush
Let's get started with an absolute classic, the extremely popular Blackberry Kush. It is considered to be one of the best smelling strains on the market. It, as may be expected, has a strong scent of blueberries and tastes just like pie. Blackberry Kush has a euphoric effect that goes perfectly with the fruity flavour. It was created by combining Blackberry and Afghani Indica, so it does have an impressive lineage. The THC level sits at around 20% and it can be grown indoors, outdoors or in a greenhouse.
Orange Bud
This lovely strain is named for its flavour, its scent and its gorgeous orange pistils. The flavour is a mix of orange juice and earth, which sounds weird but is actually really enjoyable. It is a great strain for new growers and has a THC level of anywhere between 16 – 18%. It is Sativa dominant so its effect is uplifting, powerful and cerebral. However, because the THC level isn't too high, it's still great for day time usage. The bright orange hairs really make this strain stand out in a crop, it basically ticks all the boxes.
Karribean Mango
Karribean Mango is basically a tropical holiday in a joint, relaxing and fruity and just overall delicious. This strain is Indica dominant and has a relaxing, sleepy and perfect for an evening of chilling. It can be pretty heavy so maybe not one to be smoked during the day, especially if there are chores to be done. This strain isn't the easiest to grow, but if she is shown plenty of love she produces the most fantastic yields of top quality delicious buds. It is also pest resistant which is perfect for outdoor growing, though it can also be grown indoors.
Super Lemon Haze
This strain is a combination of Lemon Skunk and Super Silver Haze. Super Lemon Haze is an award winner with a THC level of 19%. The effect is long-lasting and powerful with a lovely cerebral high that nicely compliments the bodily relaxation. This strain is sometimes used medicinally by those suffering from a loss of appetite or chronic pain. As one might expect this strain has a powerful and delicious flavour and scent of citrus, primarily lemon. It is a light and floaty strain perfect for a summer day or relaxing on the couch with a snack.
Strawberry Cough
Strawberry Cough is not only known for its fruitiness but for its stunning appearance. In colder temperatures, she turns a beautiful shade of purple, guaranteed to light up any garden. Her effect is soothing and relaxing, despite her being Sativa dominant. Though her relaxation isn't like that of an Indica. It is soft but euphoric making it an excellent strain for anyone suffering from anxiety, depression, or stress. For recreational users, she is basically perfect for everything but is recommended especially for enjoying a film and having a snack. Unsurprisingly her flavour and scent are that of ripe strawberries, balancing with the euphoria of the high perfectly. As if all of that weren't enough she also has a THC level of a whopping 25%. Luckily she is easy to grow so she is ideal for all levels of grower.
Fat Banana
Fat Banana is another high THC fruity strain that will lock smokers to the couch for the foreseeable. This means it's probably a good idea to prepare snacks ahead of time and make sure the remote is within reach. Because she is a balance of Indica and Sativa this hardcore relaxation comes with an uplifting and euphoric mental effect. The flavour is extremely sweet and delicious with a light, bright scent to match. This strain usually has a THC level of 25% and up, so she is not to be trifled with. Due to her enormous yields, she may need a little support later on in growing to ensure her massive dense buds don't snap her branches.
Sour Grape
Sour Grape came from two of the most delicious strains on the market, Sour Kush and Grapefruit. The sweet and sour of the parent plants blend together into a mouthwatering smoke. Once again the effect brings the best from both the Indica and the Sativa sides. The effect is happy and relaxing with a powerful hit at a THC level of 19 – 22%. Though she is not designed as a medicinal strain her effect is good for those suffering from depression, anxiety, pain and fatigue. This strain will produce large yields of resin frosted buds, she will grow well indoors or outdoors.
Somango
This strain was created by combining two extreme heavy hitters, Jack Herrer and Big Skunk. Together they birthed a seriously flavourful Indica dominant strain with a heavy but uplifting high. She is definitely an excellent night time strain as the effect is soporific and relaxing, but it brings with it a delightful euphoria that promises sweet dreams or none at all. The THC level of this strain is upwards of 15%, and she will grow well both indoors and outdoors. Somango isn't exactly easy to grow but is well worth the effort. If she is planted in the right outdoor atmosphere she can reach impressive heights and will really thrive in a warm and sunny climate.
This is just a nicely varied list of some of the fruity strains out there, but there are lots and lots more. As always research is crucial to find the perfect strain, but all of these are a delicious place to start looking.
Remember: It is illegal to germinate cannabis seeds in many countries including the UK. It is our duty to inform you of this fact and to urge you to obey all of your local laws to the letter. The Vault only ever sells or sends out seeds for souvenir, collection or novelty purposes.
Make sure you never miss another Vault promo and sign up for our newsletter at http://goo.gl/Bt2Ba2